A year old story I found on 20/20 explains how the Jennings, not their real names, are allowing their 6 year old boy to grow up as a girl. Jazz's Story What I found amazing is the love and support of the entire family in providing "Jazz" with everything a young girl wants, pretty dresses, ballet lessons, dolls, and still has the gender differences of a 6 year old boy. They didn't try to force boy's things on Jazz, Jazz gravitated to what young girl's like.
They also have "come out" to friends and family members that their son is now their daughter "Jazz" with long hair, pierced ears and lots of stuffed animals to play with.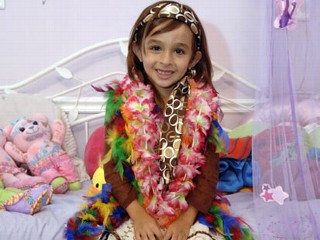 Jazz in her bedroom with pink and purple sheets and lots and lots of dolphins.
"...Most transgender children still live in the shadows, hiding from a world that sees them as (fr_aks) of nature. Rejected by their families, many grow up hating their bodies, and fall victim to high rates of depression, drug abuse, violence and suicide…"
"...Today, hundreds of families with transgender children who have found each other over the Internet are taking a dramatically different course. They're allowing their children to live in the gender they identify with in order to save them from a future of heartache and pain…"
What are you views of this situation? If you were Jazz's parents how would you react and would you allow Jazz to become a 6 year old girl?
How many famalies are there that deal with this type of situation on a day-to-day basis? If Jazz was actually born a girl and wanted to become a boy, the entire gender identification process, doctor's wouldn't be an issue; why is that not the same for girls who want to become boys. They just accept it and deal with the "changes" later in their life.